If you've visited our Orlando warehouse and showroom recently, it may come as no surprise that we've expanded our footprint. As one of the nation's largest suppliers of professional spray equipment, we continue to invest for growth and this increase is just one example.
As we shared in this month's Monthly Deal Finder e-newsletter, we've increased our manufacturing capacity and more than doubled our production and repair space. All to meet the growing needs of our customers.
Overall, the Institute of Supply Managers reported that economic activity in the manufacturing sector expanded in April and that the overall economy grew for the month. This increase is partly due to low energy costs, good business conditions, and strong production orders.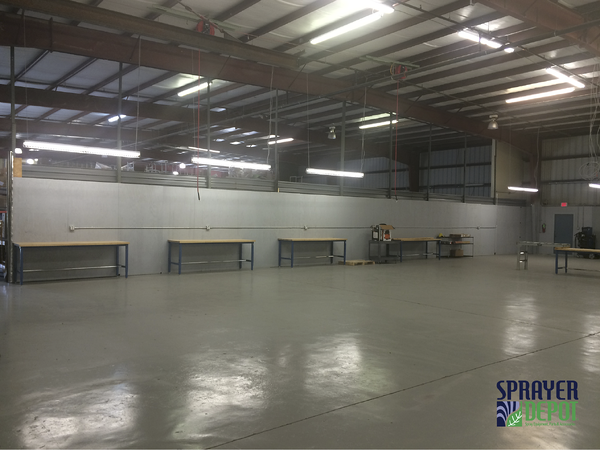 "It's common for customers to drive from as far away as Miami or Jacksonville for our services," said Sprayer Depot Sales Manager Brandon Grossman. "This manufacturing investment is great for the Central Florida community as well as our growing customer base who we've served for more than 40 years."
We've also expanded services with our dedicated 7,000-square-foot shop. This new space is designed and outfitted to enlarge and enhance sprayer production and repair while also allowing us to increase stock inventory.
And that's just the start of it. We now maintain approximately 23,000-square-feet of warehouse space at our location - 7800 N Orange Blossom Trail, Orlando, FL. Soon you'll see some changes to our showroom as well. There we have plans to increase not only the inventory we carry online, but to also provide our customers with complimentary products to meet the needs and desires of those traveling from afar.
Learn more about Sprayer Depot and the more than 30,000 products available for purchase online at SprayerDepot.com.