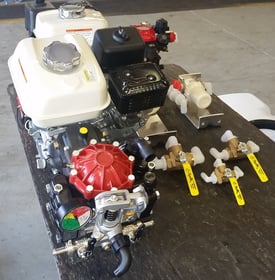 Our savvy Customer Service Technicians handle many calls throughout the day, many of which are inquiries from customers regarding how to properly maintain their sprayers in top-notch condition. For this reason, we have put together the most Frequently Asked Questions (FAQs) to help you take care of your equipment:
Q: When should I replace my spray tips?
A: If you notice a change in flow rate or a change in pattern distribution then this might indicate that your spray tips need to be replaced. You should replace your spray tips immediately if they are worn out or damaged.
Q: How often should I flush my pump?
A: After every use, especially if you are using herbicide or other harsh chemicals. Flush the pump using clean water.
Q: How do I know when my strainer needs to be cleaned?
A: If you notice a loss of pressure or a drop in flow rate then you may have a clogged strainer that needs to be cleaned. However, you should never wait until that happens, so it is advisable to clean it once a week depending on how often you spray. Check out our 3 Reasons Why You Should Check Your Sprayer.
Q: How often should I perform an oil change?
A: Please follow your specific pump's manufacturer recommendations.
Q: When should I calibrate my sprayer?
A: You should calibrate your sprayer at least once every season. For more information on calibrating your sprayer please check our Step-By-Step Sprayer Calibration Guide to get you started.
Q: I am using a diaphragm pump, when should I replace the diaphragm?
A: Every 500 hours or every 3 months, whichever comes first.
Q: Should I also check my pump's valve?
A: Definitely! If you are replacing the diaphragm it is the perfect opportunity to also check the valve and replace it if necessary.
There are also a few other things you should make a habit of checking as part of your sprayer maintenance:
Check
Hoses for any cuts, damage or bends
Nozzles to make sure they are clean
Tank for any damage or rupture
Pressure switch for any leakage
Boom spacing
As always, we are here to help you so don't hesitate to contact us if you have any questions!