In addition to being one of the largest suppliers of professional spray equipment and sprayer parts in the U.S., part of our m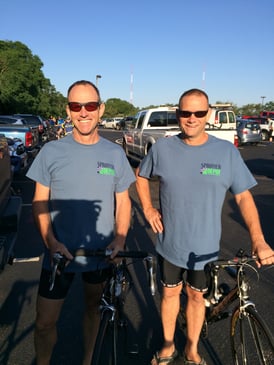 ission at Sprayer Depot is to support causes that are important to us and to give back to the community. Last year we sponsored a team of runners in the the 2015 Run to Home Base in Boston.The Home Base program is dedicated to healing the "invisible wounds" of war, for Iraq and Afghanistan veterans and their families. This year we sponsored a team of riders in the Bike MS: Cape Cod Getaway 2016. The Bike MS raises funds to support research and critical programs for people affected by Multiple Sclerosis.

The Sprayer Depot team participated in the Bike MS event in Massachusetts which took place June 25-26, 2016, cycling over 100 miles to raise money and awareness for Multiple Sclerosis. Year in and year out, The Bike MS program raises more money than any other cycling event for any cause. To date, those who have participated in the event have helped to raise over $1 billion to support people suffering from MS.
Growing Our Customer Base
Although Sprayer Depot is based in Orlando, FL, we are able to effectively serve customers all over the United States with our same day shipping guarantee: all orders placed before 3:30 p.m. (EST) are shipped on the same day. Guaranteed! New England happens to be one of our fastest growing customer regions, which made it especially exciting to participe in the Bike MS event. This was our first year participating in this program and we were happy to do it in the beautiful state of Massachusetts!
Look for Our Eat. Spray. Love T-Shirts
We are proud to support Bike MS, and we would like to invite you to do the same! Bike MS hosts multiple cycling events around the country. Get involved to support a great cause and help the millions of people who have been diagnosed with MS live their best lives. Look for our awesome Eat.Spray.Love shirts and who knows, maybe you will ride alongside our team.