When the success of your business relies on your ability to provide uninterrupted service, you don't want to find yourself in a situation where you can't follow through on scheduling commitments.
Three things that can make or break your business this season: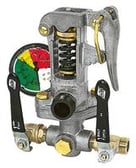 Equipment Breaking On-the-Job: Imagine just pulling in to service a large and important client. You get all set up to begin the day's work when suddenly your sprayer loses pressure. If only you had an extra pressure regulator on hand to fix your equipment! Keeping your equipment running smoothly is an important part of running any business. By having extra parts on hand you could be preventing an otherwise disastrous day!
Waiting for a Part to Come: Perhaps you've ordered the parts you need to fix your supplies, but now have to await their arrival in the mail. Ground shipping was the most affordable option but heavy spring rain storms have delayed the process. Every day you wait to fix your equipment is one more day that your client is unhappy.

Try to keep commonly used items on hand. That way you are never caught in a situation which leaves you waiting for parts to come in. For instance, you can never have too much spray hose. You can cut down on additional wear on your hose by storing it on a reel and keeping these swivel attachments on hand. It's always better to be prepared, so that you aren't wasting valuable time.
At Sprayer Depot, it's our top priority to help reduce your downtime. That's why we offer SAME DAY SHIPPING for all orders placed by 5:00 p.m. (ET). Guaranteed!
Delayed by the Repair Man: Another way you can lose serious business this season is in the event you have to wait for someone else to make repairs to your equipment for you. Every day that passes in which you have to sub out a repair job, you are losing money. Sometimes repairs can take days or even weeks to complete. Having some basic repair kits on hand can help you keep costly repair time at bay.
If you're in the Orlando, FL area, you can always bring any needed repairs to our Repair Department. We've got the fastest turn-around time in the business. We'll get you up and running in in no time.
Remember, keeping your business on schedule this season is as easy as making sure you've always got a stockpile of the things you need on hand.