In the market for a new sprayer tank? There are a lot of different sizes and styles to consider, so selecting the right type of sprayer tank is dependent upon your specific needs. Not to worry, Sprayer Depot has a large selection of tanks!
Sprayer Tanks
PCO Poly Tanks are commonly used for pest control but are actually multi-purpose portable tanks. In addition to use for pest control, they are also great for lawn care, industrial, nursery and pressure washing industries.
These tanks can be selected for stationary or transportable applications both indoor and outdoors. They range in size from 50-300 gallons, and typically have a rounded bottom for best fluid drainage. A quality feature for these tanks are the self-supporting legs and the fact that a variety of different chemicals can be safely stored in them because of the strong, chemical resistant material.
Vertical Tanks are free standing tanks with a flat bottom for indoor or outdoor installations; they come in a variety of sizes ranging from 10 to 12,500 gallons.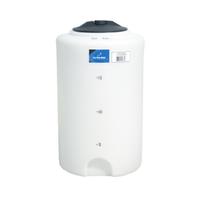 Vertical tanks are designed with either a dome or a flat top. Both the vertical dome top tank and the vertical flat top tank have walls that are translucent for level viewing and equipped with gallon indicators.
Low-Profile-Rectangle-Tanks allow for easy fitting into backs of pickup trucks and tight spaces. These tanks are available starting at a 50 gallon size and up to 300 gallons, and are great for both mobile or stationary applications.
Inductor-Tanks are useful for more complete drain-out of stored liquids in indoor or outdoor applications. These tanks range in size from 15 gallons to 110 gallons, in addition to offering translucent walls for level viewing.
The team at Sprayer Depot is here to address your sprayer tank questions and help you pick the right equipment for the job. As one of the largest suppliers of professional spray equipment and sprayer parts in the U.S., Sprayer Depot is the industry source. With more than 40 years of experience, the team at Sprayer Depot serves the lawn and landscape, pest control, golf and recreation, agricultural and horticultural industries, and would love to serve you too! Contact Sprayer Depot today and get your equipment inventory ready for the spring!
---
Sprayer Depot is committed to serving you!