Take care of your sprayer and it will take care of you. Yes, your sprayer is a big investment and you want to make sure it's well taken care of. Proper use, care and maintenance will ensure your investment holds its value for years to come. Check out these tips from past blog posts to keep your sprayer in top shape!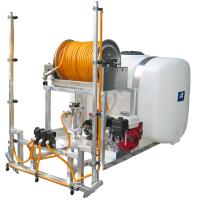 1.) Use Equipment Properly
Proper training is needed for anyone operating the sprayer. This will ensure that your sprayer can hold up to years of hard work with minimal damages due to improper handling. You can also avoid work-related injuries by ensuring proper use of your spray equipment.
Take a look at some of these posts to help you get the most out of your sprayer:
2.) Perform Preventive Maintenance
Servicing your sprayer will help you prevent downtime and increase productivity. We are big advocates of performing maintenance on a timely basis before issues arise, to help you save time and money. We have many blog posts filled with useful information to help you service and maintain your sprayer. Visit some of the following posts to help you get started on your maintenance plan:
3.) Don't Forget to Winterize
Winterizing your sprayer every year is a must. This is the perfect time to do a full inspection of all sprayer components, replace or repair as necessary, clean and store to prolong the life of your trusted sprayer. Winter time is coming soon, so why not be ready for this end-of-year tune up! Here are some of our favorite posts to help you with this upcoming task:
Need More?
Which of our posts would you recommend to others? What other topics would you like to see covered on our blog? Let us know in the comments below.