Sprayer Depot is always ready to exceed customer's expectations. This is why we are constantly innovating our line of Kings Sprayers and are always ready to expand our inventory to meet customers' needs. Custom-built sprayers are another way we keep up with increased demand. Customers know we are the spray equipment retailer they can depend on when they want a sprayer built to their specifications. We won't pull any punches, and our talented product development and production teams will work in tandem to design and build the ideal sprayer at an affordable price. From manufacturing to shipping, we are committed to providing the best service in the industry.
We've built hundreds of custom sprayers over the years, yet skid sprayers are one of the most sought-after sprayers to customize. Our trusted aluminum frames can be welded into different configurations to meet specific needs. Skid sprayers are a great option for pest control applications. They are the ideal sprayer type for truck beds, utility vehicles, boats, and trailers. We've even outfitted trains, so nothing is off limits, just ask our knowledgeable Customer Service Technicians.
Some of our custom-built sprayers have been so popular that we decided to give them permanent spots in our product line. Take a look at 3 recent additions to the Kings Sprayers skid sprayers lineup:
Kings Sprayers 200/100 Gallon Dual Tank Skid Sprayer with 10 gpm Diaphragm Pump & Dual Electric Hose Reels with 300' 1/2" ID Hose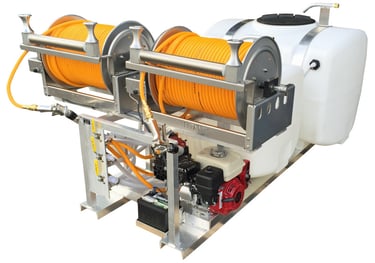 Model: KS200100P7039E2
Get through the day quicker with this skid sprayer featuring two tanks and two hose reels. Cut down on time and save money!
Features:
5 HP Honda GX160 electric start engine

Hypro D30GRGI diaphragm pump (9.5 gpm, 580 psi)

Dual electric hose reels with 300' of 1/2" ID hose

Hose roller guides & fill pipes for each tank

Battery kit included for engine & electric eose reels

Made in USA

6061 aircraft grade aluminum frame is lightweight, chemical resistant and will never rust or need painting
Kings Sprayers 100 Gallon Skid Sprayer with 12' Electric Boom and Manual Hose Reel with 300' of 3/8" ID hose
Model: KS100P7038B12E3
Who says you have to choose? Have it all with this sprayer featuring a hose reel AND a boom! Perfect for the pest control applicator who needs one sprayer to perform a variety of applications.
Features:

5.5 HP GX160 series Honda engine

Hypro D30GRGI diaphragm pump (9.5 gpm, 580 psi)

12' electric boom

Made in USA

Standard sprayer equipped with 50' of 3/8" ID hose

6061 aircraft grade aluminum frame is lightweight, chemical resistant and will never rust or need painting
Kings Sprayers 200 Gallon SpaceMaker Skid w/ 10 gpm Diaphragm & Manual Reel w/ 300' of 3/8" ID Hose

Model: KS200P7038SM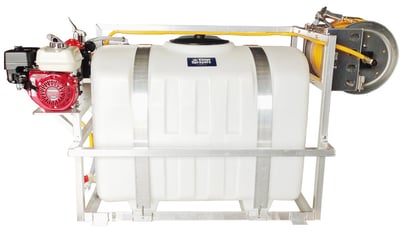 Save space with this skid sprayer model! Designed to fit in tight spaces or simply for those who have other equipment in their vehicles and need the extra room. Don't sacrifice quality due to limited space, this SpaceMaker skid sprayer will get the job done!

Features:
5.5 HP GX160 series Honda engine

Hypro D30GRGI diaphragm pump (9.5 gpm, 580 psi)

Made in USA

6061 aircraft grade aluminum frame is lightweight, chemical resistant and will never rust or need painting

Manual or electric hose reel with 150' or 300' of high pressure spray hose (additional option)
Not ready to purchase yet? Why not check out these blog posts with even more information for pest control technicians: