It's that time of year again...the leaves are falling, the temperatures are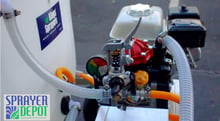 dropping and for many, it's time to put the spray equipment away for the winter months. It's the ideal time to perform preventive maintenance and put together a checklist (don't worry, we've got one you can download by clicking the button at the end of this post) for an annual maintenance plan.
Fall Sprayer Maintenance in 5 Easy Steps
Check spray tips for wear and tear, and replace as necessary. Spray tips don't last forever! You can read more about how to tell when it's time to replace them in this blog post we published earlier this year.
Change the oil in your pump, gearbox and engine. Consult your manufacturer's recommendations on appropriate fluid changes.
Flush the pump and tank with clean water and make sure to dry them using a clean rag.

Remove any debris from the strainer and flush it with water. A clean and properly sealed strainer will allow proper flow to the pump and contribute to a longer pump life.

Remember to calibrate your sprayer before storing it. Follow the steps outlined here for more information on how to perform a calibration.
We recommend the use of a Maintenance Checklist to keep track of each maintenance task. To help you get started, we have created a Sprayer Seasonal Maintenance Checklist that lists all components that need to be serviced daily, weekly, quarterly and semi-annually. It also includes a winterizing checklist! Check it out: