We've said it before and we'll say it again: our customers are our number one asset. Exceeding customers' expectations with our products and services is our number one goal. So far, in 2015, there have been many exciting changes here at Sprayer Depot, all to meet increased demand. Business is growing and our customer base is growing with it. Although we are headquartered in sunny Orlando, Florida, our market share is global and we work hard at maintaining our competitive edge.
Our customer base ranges from large multi-national companies to medium and small-sized businesses. We serve 6 major industries: lawn and landscape, pest control, golf and recreation, agriculture, arboriculture and horticulture. Our customers extend to more than 20 countries and we're adding to that on a regular basis.
Take a look at the heat map below to see some of the countries we're proud to include in our customer base: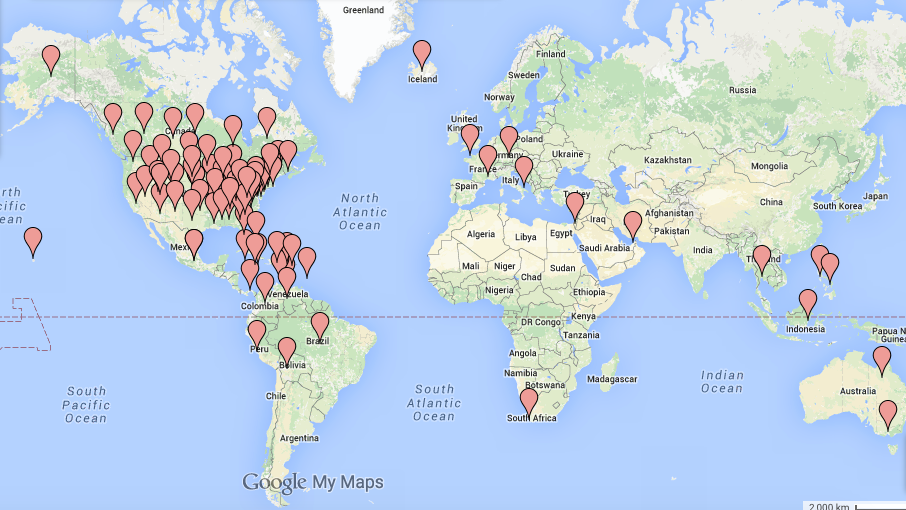 Now let's take a closer look at some of our customers right here in the USA:
Yes, that's a lot of cities across the nation! From the East Coast to the West Coast, North to South there are many customers who rely on Sprayer Depot for all their spray equipment needs
The heat map below shows that the vast majority of our customers are located in Florida, Texas and California. However, all the way up in Alaska down to Hawaii, across the country to Puerto Rico and the Virgin Islands, we service customers in all 50 States and territories.
Now that we've shared an overview of our customers' locations, don't hesitate to place an order and become part of our growing customer base. Whether you are located right around the neighborhood, across the country or even across the world, you can trust our quality products, knowledgeable Customer Service Technicians, and fast shipping.
Your order may even qualify for same-day shipping! Just place your order by 3:30 p.m. (EST) and it will ship out the same day. Guaranteed. We also offer a variety of shipping options to meet your needs such as UPS Next Day Air®, UPS 2nd Day Air® and UPS Ground.