The pressure switch is by far the most overworked part of your pump. It is constantly running which makes its life expectancy shorter compared to other parts. If you notice that the pressure has decreased, the switch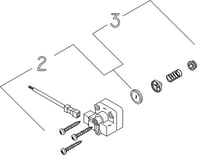 leaks or if your pump won't run or won't shut off then you might need to replace the pressure switch. Replacing the switch is an easy and inexpensive DIY project that will save your equipment unnecessary downtime.
What You'll Need:
Drill/Screwdriver
Installation Process:
1. Unplug the red power supply wires and inspect them for possible burnt-out*
2. Unscrew the 3 screws to remove the pressure switch
3. Remove the old diaphragm and replace with new one making sure it is flush**
4. Screw the pressure switch back in place
5. Reconnect the power source wires and you are done!
*Kit includes replacement wires
** An optional Teflon seat is included
Read More